Epoxy resin is suitable for creating original interior items, decor, paintings. Mixing it with a hardener and various additives - glitter, pigments, gold, and pouring it into special molds, you can get various products. Recently, resin coasters have become very popular - cup holders, cheese or fruit plates, countertops. They have long been used in everyday life as decor or as tableware. To make them, you only need resin, molds for pouring, and a little imagination.
What is a resin stand?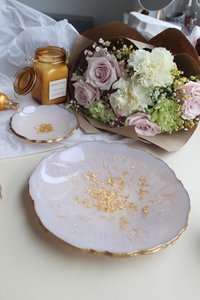 Resin coasters are a work surface on which cups and glasses, plates are placed. This can be a countertop in the kitchen or bathroom, allowing you to equip these rooms in a certain style, or individual items used for table setting. A variety of decorative solutions is achieved by using techniques - there are so many of them that the effect is always original and unexpected.
A minimum of materials is required to make the coasters. The process can be adjusted even at home, simply by observing safety precautions.
The resin stand is different:
bright unusual appearance,
resistance to mechanical stress,
resistance to high or low temperatures,
environmental safety.
Types of stands
Epoxy resin is a versatile material, based on which you can create a variety of types of coasters: cup holders, plates, including several tiers for fruits, napkin holders, phone holders. Some products, for example, coasters for hot dishes or cup holders, are produced in pairs or sets, and some are in a single copy. The variety of silicone molds allows you to obtain objects of classical or non-standard configuration, depending on the desired effect.
Coasters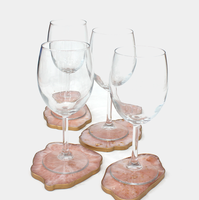 The most popular product that can be made from epoxy resin is coasters. Usually, they are made in pairs or sets in a single style or compositional solution, while the ideal similarity between them, most likely, will not be. On our site, you can rate and buy epoxy resin cupholders . As for the shapes, they can be standard with clear geometry (circle, oval, square) or unusual (leaves, stone cut, flower, heart).
Plates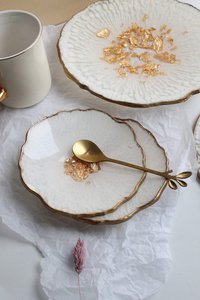 Plates are also made of epoxy resin mixed with hardeners. The easiest way to create a product is with the help of a ready-made mold, but no less popular is the use of an object, the shape of which should repeat the plate. It can be a glass, bowl, or any other item. After the resin is prepared, it is first poured into the mold until it solidifies, but the plasticity remains flexible. It usually takes about 6 hours to cure like this. After this time, you can take out the workpiece and place it on the selected object, having previously covered it with a transparent film. The casting is heated with a hairdryer to give it plasticity and final shape. The original plate will be ready in 10-12 hours.
Fruit bowls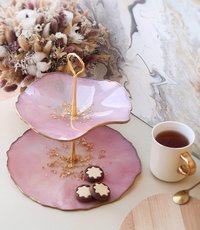 The peculiarity of the fruit bowl is on several floors, for which stands are made of epoxy resin. Usually, there are two or three of them, and the higher the tier, the smaller the diameter of the finished plate. After hardening, a hole is made in each tier with a drill, through which the floors are connected with a special rod. For the manufacture of fruit trays, you can use ready-made silicone molds.
Dishes and cheese plates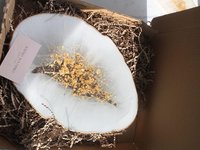 Dishes and cheese plates made of the resin composition can become an exquisite decoration of the kitchen. It is easiest to make them based on ready-made forms, pouring the required amount of composition. The ordinary film is also suitable if the dish should turn out to be larger. A sealant or glue is used to create the boundaries. After they dry, the craftsmen begin to decorate the internal space.
Phone stands
Phone stands can only be made of resin. By analogy with other products, a stand of the desired shape is created. Already after solidification on a special machine, a hole is cut in the fill, into which a phone or tablet will subsequently be inserted. If you don't want to spoil the product, you can screw metal elements into it, which will become a support for the gadget. Sometimes craftsmen combine mortar with wood - it is inserted into the cutout and also serves as a support.
Napkin holders
The napkin holder consists of three elements: one acts as a base, and two - directly to the sides, between which the napkins will be located. These two parts are aligned from below, cut off, sanded so that the joint with the base is reliable, neat, beautiful. A reliable adhesive is used to fix it to the base.
Trays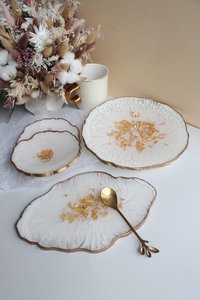 In this capacity, an old unnecessary plastic or wooden tray is suitable, or you can create a product from scratch by choosing the desired surface. The working area is large, which makes it possible to decorate it in different ways. For this, fillers are used - portal, dried flowers, coins, and any other interesting decor. If you don't have old trays on hand, you can cut the base out of plywood or thin wood. It is poured according to all the rules for using epoxy resin.
Applications
The main part of epoxy resin products is used as interior decoration. However, the material is safe, so it can be safely used to make dishes and products from which you can eat or drink.
Canteens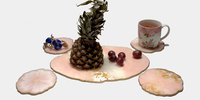 Resin coasters or plates can serve a full dining function. You can put food and dishes on them, making the table setting special. Trays can be used for the same purpose. Due to the heat resistance and density of the finished product, they can serve any food - hot and cold. No harmful substances are released upon contact with food. The only caveat is that such dishes are not recommended for washing in the dishwasher.
Decorative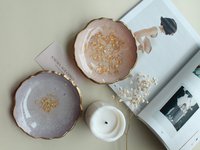 Coasters can be used as original furnishings. They give the space a special atmosphere of comfort and beauty. By combining pigments, colors, fillers, products can be easily made unusual and individual. It is unlikely that anyone will refuse such a gift made with their own hands!
Resin Coasters Casting Techniques
The first and main stage in the manufacture of any item is to prepare a solution by mixing the resin with a hardener. Then creativity begins, the stages of which largely depend on the effect you want to get. The most popular pouring techniques for epoxy coasters, plates, and coasters are:
PetriDish or Petri Art technique. The Petri Art technique involves the addition of alcoholic ink to the solution: entering into a reaction, they create unique drawings. The whole operation is performed in a special Petri dish - a flat glass round plate with a lid. If a cup is not available, reusable silicone molds will do. As for ink, several shades can be combined within one product without forgetting white: due to its greater weight, it sinks to the bottom of the product, forming unusual patterns.

Resin Art. This technique involves working with a smooth, even, and hard surface, such as plywood or MDF: the material adheres better to them. The drawing is formed by layer-by-layer filling of the canvas with liquid of different colors and effects.

Dirty glass. One of the simplest ways to pour epoxy: you need to mix the resin with the hardener in one glass and then add a drop of the colors you like there, without stirring them. The drawing is formed by turning the cup over and tilting the tablet in the desired direction.
Geodes. This technique allows you to create uniquely beautiful dies or countertops without the use of additional equipment. In nature, geodes are cavities filled with minerals and crystals.
Ocean. Combine epoxy with sand-effect textured paste and marine-themed details (shells, corals) to create a unique work surface. The 3D effect is provided by streaks and color gradients that simulate the ocean.
These are just the most popular techniques used by epoxy hobbyists. There are much more of the - "veil", "brains", "clouds", "haze", "space", and much, much more. You can learn more about them in the article Resin painting techniques . Many items are poured into blanks-tablets. They are created from solid wood, laminated MDF, foamed PVC in the form of rectangles, circles, ovals, or irregular shapes and can be used without priming the surface. Ideal for painting coasters using the Resin Art technique or when using alcohol ink.
Stand making methods
The easiest and fastest way to make stands is in special molds. In this case, you will be sure that the finished product will come out in the shape that you need. Silicone is used for production, so after hardening, it is convenient to take objects without deformation or damage.
The second option is to use resin for application to various surfaces: wood and its varieties (plywood, MDF) and stone. In this version, the finished product will be combined, but the adhesion of the materials will be of high quality, and the final product will be durable and airtight.
Applying resin to other material
The properties of the material ensure its good adhesion to many surfaces. However, it will not stick to waxed paper, silicone, polyethylene, it will spread over them, so additional boundaries will need to be created. This is done with the help of glue or sealant, which are used to shape the boundaries of the future product directly on a tree or stone.
On fiberboard
The epoxy resin adheres perfectly to fiberboard, forming a hard and durable surface after curing. A sheet of plywood with a thickness of 3-30 mm can be used in work. It can be completely saturated with the prepared solution, but this will take a very long time: the material will be applied in layers. No less popular is the treatment of plywood countertops with epoxy to obtain a transparent glossy surface. Decor elements can be any natural materials, precious stones, jewelry, beads, favorite photographs - everything that your imagination will remember.
On the wood
The wood adheres well to the resin. If the composition is transparent, it allows you to create a durable smooth surface, but retain the natural texture, the texture of the array. By filling the pores, the polymer composition makes the coating very durable along the entire perimeter of the product. Using the mortar, you can fill in the wooden shapes or create just the top layer. Finished surfaces can be easily sanded and renovated due to their high resistance to mechanical stress.
On a stone
Epoxy resin is widely used to decorate stone items - countertops, slabs. The polymer composition helps to achieve high levels of strength and restoration of the surface to increase its protective and decorative properties. In this case, the surface can be cloudy or glossy - it depends on what effect you want to get. You can fill it with epoxy resin marble, granite, ceramics.
Pouring in silicone molds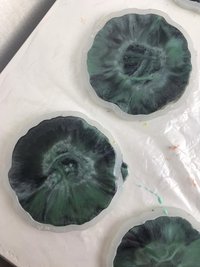 Casting into molds is the easiest way to work with epoxy. Convenience is that the inside of the mold is filled gradually, there is no risk that the solution will overflow over the edges: the walls of the mold will be protected from flowing out. For work, silicone molds are usually used: they are soft, elastic, durable, and plastic, so the finished products after hardening are easy to pull out without damaging them. Among the pluses also stand out:
resistance to temperature extremes;
high tensile strength;
heat resistance;
easy separation of the finished product after hardening.
The convenience of using silicone molds is that they are suitable for repeated use. After work, each mold is enough to rinse with warm water, dry well, and it is again ready to create creations. But it should be borne in mind that as the operation progresses, the inner surface of the silicone begins to deteriorate, which is reflected on the stands: their surface becomes not so smooth, so additional grinding will be necessary.
Form forms
Silicone molds are presented in different types in terms of appearance. They are spherical, in the form of geometric, floral, or abstract figures, as well as cabochons (from which jewelry, bijouterie is created). Even the most complex shapes are plastic, easily bend, which makes it possible to reach the finished product without damaging either it or the silicone mold. One shape will allow you to create coasters or coasters from the epoxy resin using the Petri Art technique, in a nautical style or the form of cut stones - that is, the choice of technique is not limited by anything but imagination.
Stand shapes
A variety of coasters, plates, cup holders is provided by the forms that craftsmen use for casting. The easiest way is to use ready-made solutions - molds or frames in the form of geometric shapes, leaves, flowers, and other interesting variations.
Rectangular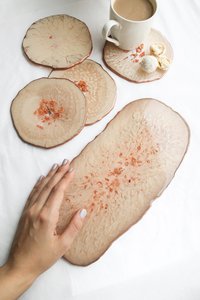 Rectangular shapes are ideal when you need to create a tray, chopping rack, or elongated stand for several items at once. The same work surface is suitable for drawing large paintings.
Oval and round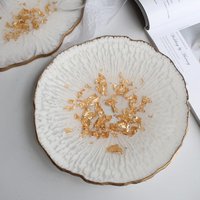 Round resin base based on oval molds, craftsmen make plates of different sizes, trays, or serving boards.
Hexagonal
Hexagonal blanks are used to create plates, trays, fruit bowls that attract attention with smooth edges, clear geometry, but an original look.
Octagonal
Another option that allows you to give ready-made objects forms that are clear from the point of view of external parameters.
In the shape of a heart
A heart-shaped silicone mold is a great option when you want to get an abstract volumetric heart.
In the form of flowers
Flower-shaped blanks will help create a beautiful decor in the form of plants and leaves.
Two-piece stands
Silicone molds can consist of two parts, allowing you to make beautiful glass holders using the Petri technique, in the form of a stone cut or the effect of a river, ocean.
Large coasters with 4 sections
Stands, consisting of 4 or 6 elements, involve the pouring of separate parts, which are subsequently assembled and form some kind of product in a round, square shape or the form of a geode.
Types of dyes and pigments
Epoxy itself is a transparent material. To give it a certain color, dyes and pigments are used. The most popular dyes are:
alcohol ink: colored alcohol ink is used in the work with the resin, I add a drop of white to the fill to create the Petri effect. It goes to the bottom, into the thickness of the fill, thereby creating an amazing effect;
clear toners: These specialized dyes provide a coloration effect without haze. They are used to imitate water, glass: any object filled with such a dye will be perfectly visible even through a thick layer;
fluorescent: these dyes make the product bright in daylight, and glow in the dark due to the accumulation of energy under the influence of light;
phosphors: these dyes in powder form accumulate light and give an even glow in the dark for up to 10 hours;
matte: their purpose is to give products a deep and uniform shade, while they will not have a glossy shine;
diffusant: this colorant makes the epoxy opaque, "milky".
Note that colors are consumed very economically: to obtain the desired shade, it is enough to add up to 5% of the dye. Nobody bothers to combine different tones, pigments, additives - this makes it possible to create unusual colors. For coloring at home, you can use improvised means (brilliant green, ink from pens, food dyes) or art paints.
Pigments also help to give a certain shade to the resin:
metallic: the pigment is created based on crushed metal, which provides the finished resin shine, its rich deep shade;
floating: when added to the mixture, this component floats to the top layer, forming metallic veins on the surface. Pigments are available in gold, bronze, silver colors;
mother-of-pearl: this pigment is responsible for the effect of color tenderness with the formation of subtle overflows on the surface;
chameleons: with the help of this pigment, color is created that cannot be determined - it shimmers in several shades at once;
Glitter: These are small or large particles that reflect light falling on them, giving the resin surface a sparkling effect;
holographic: shimmering with all the colors of the rainbow, the pigment provides a smooth transition of colors in the product.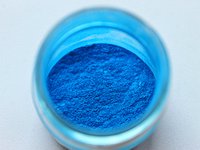 Pigments are available in powder form and are also added to the solution in certain proportions. We have described the most popular types of dyes and pigments that are used for tinting epoxy resin. You can read more about them in our article on dyes and pigments for epoxy resin
Types of fillers for coasters
Epoxy is a transparent material, so dyes or pigments are used to give it a certain color, texture, and texture. Coasters or coasters can be quite unusual if you use bulk fillers when pouring:
decorative chips and stone give finished products a look that imitates a natural cut of stone. This filling is suitable for volumetric fill. Pebbles are visually "lost" in the thickness of the fill and do not float, but create a spectacular coating;
beads, beads, glitter: they can decorate the central part of the stands or frame their edges;
gold leaf (liquid or sheet): it can be used to decorate epoxy resin products, placing accents. Very easy to apply to any surface;
dried flowers: you cannot use fresh leaves or flowers for filling, as they will eventually turn black and rot. But dried flowers are ideal for these purposes;
textured paste: its task is to create a relief or imitate natural materials. Ideal when you want to recreate mountains, rocks, or the effect of sea sand on the surface;
seafood: shells, moss, quartz sand, multi-colored scallops will "paint" a resin picture on a marine theme with a relief surface;
stabilized flowers: they are already prepared for use, so they will not deteriorate and rot in the fill;
Stickers: Ideal for 3D painting on epoxy. Printed on transparencies, they can help create extraordinary effects in the finished product.
From improvised means, buttons, coins, corks, photographs are excellent fillers - everything that will allow you to recreate your ideas of beauty. You can learn more about filling options in this article: Epoxy resin fillers
Resin processing methods
After the workpiece has hardened, defects may appear on it. This is due to the ingress of dust particles, sometimes the irregularities are associated with the shape itself. Several methods help to eliminate all these defects:
grinding: with its help, uneven areas are "cut down" and "erased". This operation is performed with sandpaper or a special grinder;
polishing gives the surface a perfect shine to enhance the gloss of the surface;
An important role is played by the finishing layer: it is needed for all products, regardless of whether there are problem areas on them or not. Sometimes it is enough to apply a transparent layer of resin, which will make the drawing even more voluminous and interesting. Special attention is paid to the ends: they are necessarily covered with paint, gold leaf to complete the general look.
Types of protective coatings
The finished product needs additional protection. For this, compositions are used that will not harm the surface, but, on the contrary, will ensure its resistance to external influences - thermal, mechanical.
Film
With the help of a film coating, the surface of the stand or cup holder is heat-resistant. The composition forms a glossy shine and most importantly prevents the appearance of scratches when exposed to sharp objects.
Varnish
The protective varnish is a two-component composition that, after application and hardening, forms a dense glassy film. Suitable for all flat surfaces.
Heat Resistant Epoxy Resin
Pouring the surface with heat-resistant epoxy resin ensures its protection against any temperature indicators. Coasters for hot epoxy resin in our catalog are covered in this way, which guarantees the safety of their decorative layer, texture, and texture from damage. After complete hardening, the working surface becomes shiny, durable, absolutely smooth, and able to withstand temperatures up to +200 degrees!
The harm of epoxy coasters to health
Epoxy is a harmless material, but when working with it, you need to follow simple safety measures: use gloves and a respirator mask. Contact with a liquid solution can threaten various problems:
skin lesions,
allergic reactions
toxic poisoning
thermal burns,
damage to the eyes.
After complete hardening, the product is safe for humans, since there are initially no compounds in the material that could be toxic. It is no coincidence that plates or glass holders made of epoxy and painted in the brightest shades can be used to serve dishes. And even if you put hot dishes on the surface, no toxins will be released when heated.
Can I put hot things on an epoxy stand?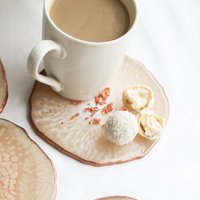 To achieve thermal protection, finished epoxy products are coated with special heat-resistant compounds. With this treatment, you can put it hot on an epoxy stand. In the absence of a heat-resistant coating, direct heat may cause stains on the surface. We offer to buy epoxy coasters , processed in the right way.
Care of the coasters
Epoxy resin is a popular material for creating coasters and other interior or kitchen items. This is explained by the good indicators of strength, the durability of the finished product, and the simplicity of its creation. However, during operation, it is worth adhering to some rules:
Do not drop or place heavy items on the surface.
Protect aggressive compounds - alcohols, solvents, as these chemicals will spoil the surfaces.
Constant contact with soap formulations will lead to dullness of the surface and loss of its glossy shine.
Direct sunlight can cause color fading.
You must first clean the work surfaces with a damp cloth, then wipe dry - natural drying will lead to the formation of streaks. Compliance with these simple rules ensures that resin coasters and coasters will last more than one year while retaining their decorative and operational properties.