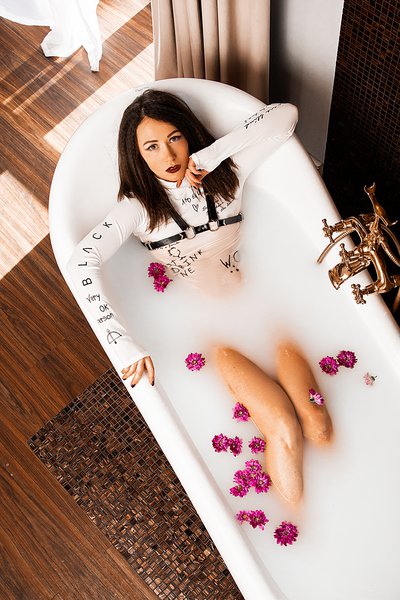 Accessories play a huge role in completing an image or adding coquetry, elegance, grace to it. We are accustomed to using handbags, belts, belts, and jewelry for these purposes. But you can give up all this and choose a harness. You will not find it in the base collection of clothes, but the accessory fits perfectly to express the rebellious spirit and some aggressiveness.
What is a women's harness?
The harness is made of intertwined belts of different widths and lengths. Previously, it was part of the clothing of the military people, but modern designers have gradually transferred it to the category of fashion accessories. Initially, a scabbard was attached to it, where a saber or sword was put, then pistols, and today it is a stylish decoration that, when worn correctly, will give the girl's image a touch of rebelliousness, sexuality, and even brutality. Leather straps are adjustable in height, width, fit comfortably on the body, do not cause unpleasant sensations when worn for a long time.
How did women's harnesses come about?
In Russia, this piece of military clothing appeared in 1705, although the French invented straps much earlier as a convenient device for carrying edged weapons. Already during the Great Patriotic War, there were German, Russian, and French varieties. Until the 20th century, this accessory was only worn by men, but in 1970 there was a sexual revolution, and leather belts began to be perceived as a product with erotic overtones. By the way, this aura hovers around him today.
At the beginning of the XXI century, the harness appeared on the world podium, creating a provocative atmosphere around the images. The Hermes brand was the first to dare to add it to the collection of clothing in 2010. Then it was presented at the show of the fall-winter season 2013/2014 by the Singaporean fashion designer Prabala Gurung. Designers could not even imagine that such a cruel thing would produce such a stunning effect, and the play of contrasts - and - rude masculine with the gentle feminine - could be so beautiful.
For what is a harness?
Photographers use this accessory to hang cameras with different lenses so that the load is evenly distributed throughout the body so that you can change equipment at any time on the go. Is bikers and cyclists like it for the ability to store documents. Personal belongings on a trip, and they choose models with a belt clip. For those who lead an active lifestyle, this is are effective storage assistant that allows you to free your hands. The harness contains a hidden pistol in a holster under the arm, but only men use it this way. Women see her purpose in something completely different:
decoration and giving the image a zest;
the formation of a modern style corresponding to fashion trends,
the effect of shocking, especially in fashion such as street style, military, casual to attract attention and stand out from the crowd.
What to wear with a harness?
It is not a lightweight accessory, since if the combination of clothing items is unsuccessful. The image will turn out to be not sexy. But vulgar and vulgar. Designers have shown that jewelry fits many styles, but catchiness and a certain aggressiveness dictate the right approach to supporting the unity of the rebellious style. Below we tell you how to wear a harness so as not to harm your reputation.
Dress with harness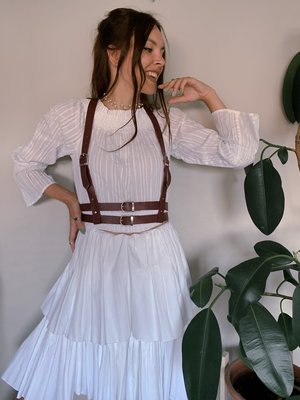 One of the most elegant combinations is a harness worn over a dress. The more romantic the outfit, the more harmony you get. We offer exclusive models for the following clothes:
T-shirt dress: it is distinguished by an extremely simple cut, ease of wearing and a concise look. Putting on a belt in a contrasting color, you will make the combination complete and accentuated, and sneakers or sneakers will emphasize the lightness of the image;
In boho style: gypsy notes, elements of grunge, vintage, or hippie are intertwined in these clothes. Dresses are usually loose-fitting with decorated fringes flared fluffy skirts. Leather model Elizabeth or Harley focuses on the lightness and romance of fabrics.
Loose-fitting dresses models are very comfortable. They have the cut, where the emphasis is on freedom of movement. Styles are very different - from oversize robes to Empire-style elegance. Leather straps on a light solid color dress will draw the eye to the neckline or waist;
Slip dress: if you want a shocking appearance, put on a harness on a slip dress. Daring, shockingly frank. You will look even sexier with such an accessory. The dress will outline a light, relaxed silhouette, and the choker jewelry, like the Bonny model, will look very defiant.
Evening dress: any evening dress is can meant to show the girl's femininity. The contrasting Alexa bust accessory will match the minimal floor-length dress for a fresh take on the look. The Elizabeth model is suitable for a tight-fitting outfit with thin straps.
Our harnesses are versatile products, as if you wish, you can remove the choker or take the belt out of the straps and wear them separately with any clothing in your wardrobe.
Harness with shirt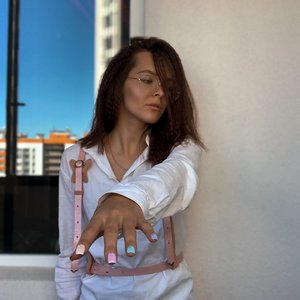 A classic shirt is an everyday base item, but it is also easy to give it an unusual look, complementing it with a harness. It is fine on contrasting monochrome shirts in white or blue and is also suitable for black and white models with a discreet pattern ("crow's feet" or a cage):
In oversized models, the straps will draw attention to the upper body. For example, if you put on Emily handmade harness on the chest .
With a blouse with puffy sleeves, a leather accessory will shift the look from volume to the zones that you want to highlight - the waist or chest. We recommend wearing the Kristal model for blouses with voluminous sleeves;
In classic shirts with a collar, including a stand-up collar, a leather product on the chest or waist will add a touch of audacity to a strict business style. You can choose the cherry Harley model for classic blue, gray, or white shirts.
If you want some mischief, you can wear a light checked cowboy shirt, jeans, and sneakers, and choose a harness from additional details. Such an ensemble will show how fragile and graceful a girl is. Our designer pieces Harley , Olivia , Elizabeth , Kristal , Cross Small and Emily will help you create the perfect shirt pairings.
Harness with a sweater
Leather accessories look good with a sweater, sweatshirt, or warm jacket. Interesting variations with the following models:
Cropped sweaters: under them, it is better to choose straps with a fixation on the chest area, which will shift accents from the waist and visually balance the figure. For a short sweater is recommended to choose a strict model Elizabeth black color . It which will look beautiful on any sweater color.
Sweaters with coarse knit: due to the embossed patterns on the surface, clothes may seem rough, and thin straps will soften them somewhat.
Oversize models: not everyone likes excessive volume, and a leather harness balances it. Its width matches the thickness of the sweatshirt.
Any sweater model will fit one of the following models - Emily, Elizabeth, Kristal, Cross Small.
Harness for outerwear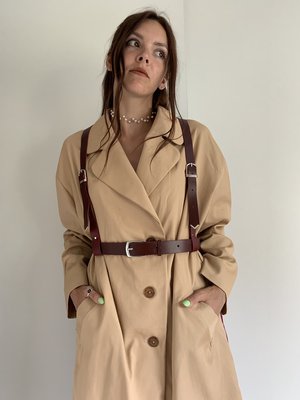 The harness has become such a trendy accessory that many girls wear it even on outerwear. Ease of use ensures by adjustable straps for a comfortable fit.
The classic option is a combination of a harness with a jacket or a laconic military coat. Complement the ensemble with a wide army belt, boots with thick soles. In the same style, you can wear a leather accessory with a raincoat and jacket. Sometimes there are combinations with fur coats. The main requirement is that outerwear should be laconic, without lush details and bright decor. Models Harley, Elizabeth, Olivia, Kristal, Cross small will help to give airiness and lightness.
Harness for underwear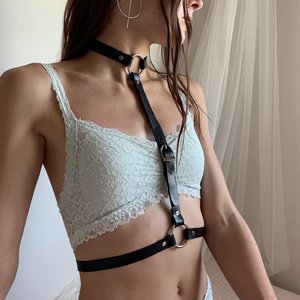 It will emphasize the grace and lightness of the harness, worn on a short top or T-shirt. Clothes are selected in gray, black, but any monochromatic variations will do. Accessories are presented in the catalog in black, cherry or beige, which are basic for forming a set of clothes.
We offer designer models Kristal, Stormy, Bonny, Alexa, Emily to show your sexuality. In combination with the bodysuit, Alexa in black will look great: it will add some aggressiveness to the look. The strict Elizabeth model will look good with a short top, and the stylish black Stormy with rings will look good with a strapless top.
Women's harness on a naked body
The harness is worn on the naked body as an erotic accessory, for example, during photo shoots. For such cases, both a one-piece swimsuit made of leather straps are used, as well as individual components. For example, a bra combined with some bottom. Lovers of courage and experimentation advise choosing one of the following models - Alexa, Stormy, Bonny.
What not worn with a women's harness?
The accessory cannot be worn with any clothes from your wardrobe because any miscalculation will lead to the creation of a vulgar and not the most beautiful image. It does not recommend to wear it with the following elements:
Mini-skirts, short dresses, as the image will turn out to be vulgar.
Transparent tops, crop tops, low-cut T-shirts do not require additional details, as they already attract enough attention.
Boots are not very suitable shoes, they will significantly weigh down the image, and you can forget about femininity.
Office classic suit excludes the use of something daring.
Clothes with excessive decor: give up embroideries, catchy drawings, ruffles, flounces, or scallops - the more monochrome your look, the more harmonious it is.
A large number of jewelry: a stylish and self-sufficient accessory is better than any jewelry.
Mood and attitude play an important role: you need to wear bold things with confidence. Since they design to attract attention, emphasize beauty and assurance, complexes are not necessary here.
How to choose a women's harness?
The harness is a versatile accessory that you can wear in the office with the proper compilation of the clothes. The straps intertwine in different ways, their width and attachment point differ. You will be able to present the advantages of the figure in a favorable light and skillfully hide its flaws.
By appointment
The harness is suitable for creating an extravagant look, although rarely finds in the base wardrobe. There are several types of products for their intended purpose:
Classic ones are used to focusing on the waist area to make it visually narrower. By adding an accessory to a dress or shirt, it will be possible to emphasize the pluses of the figure and level its flaws.
Original models are an excellent choice when you want to shock your way. They are worning for punk, gothic, or boho-themed parties. For such images, variations with a wide belt, suspenders, including those with fastening on the hips, are suitable.
For intimate games: leather products are often used as erotic lingerie, acting as an adornment of the female body. They wear leather body straps or bras on underwear or a naked body. During the manufacture, hypoallergenic materials using that will not chafe the skin, providing a comfortable fit. For a more sexy look, choose models with chokers.
In our catalog, Harly, Elizabeth, Kristal can be considered classics. Stormy, Bonny, Emily, Alexa stand out from the original models.
At the place of wearing
A harness is a versatile accessory that wears on the body in different ways.
On the upper body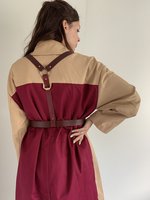 In the classic version of wearing a harness, it will easily become part of your everyday wardrobe. Wear leather straps with a solid dress and light, loose-fitting shirt to accentuate your chest and upper body.
At the waist
The harness at the waist acts as a kind of belt, which has upper straps. This strap grabs the shoulders or back. Perfectly complement the accessory with a mid-length bodycon dress or a long shirt worn with a straight skirt or jeans.
Lower body
Belts sometimes wear around the waist and thighs. Such a solution expressively outlines the lines of the body, visually favorably presenting its dignity, lengthening the legs, and making the silhouette balanced. In a casual style, a lower body harness wears over jeans, loose trousers, or leggings. This option is also suitable for creating a sexy look if you wear a black leather product with erotic underwear.
Harness on the chest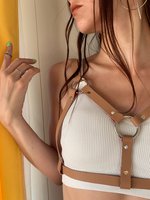 She will draw attention to the chest. Thin elastic bands wear over a plain top, white shirt, T-shirt. If you want playfulness, wear the accessory on your naked body so that the bodice remains visible in the neckline, for example, in the cut of a blouse. In the erotic style, for sample, for role-playing games, the harness uses on a bra or instead of it.
Harness on legs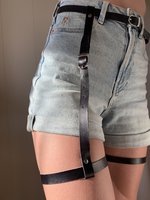 Garters Wearing a Model Over Shorts Models worn on the legs are known as garters. It is a harness made of straps, which uses as a garter for stockings and fixes at the waist. It can be attached to the thighs, ankles, shins, or calves, worn on the naked body, or underwear, shorts, or leggings. Such an accessory visually makes the legs longer and slimmer, and the image becomes much more spectacular.
By form
Modern harnesses differ in appearance, design. What makes it possible to use them for the creation of different styles.
Classic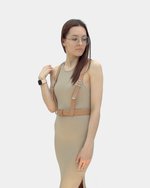 In our catalog, harnesses of the classic type are present by the models Olivia, Elizabeth, Kristal. Externally, it is one or two belts around the waist and two shoulder straps. The accessory emphasizes the décolleté, neck, and waistline, making the silhouette slimmer.
X-shaped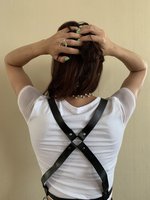 The front side of the harness designs in the classic version. On the back, the straps arrange not horizontally but in the shape of a cross. Looks good on any body type. In everyday wear, the Cross Small model in our catalog will show itself well.
Pentagram
A harness is a weave of thin leather straps on the chest in the form of a pentagram. Use to create erotic images, for example, in a photoshoot.
With a choker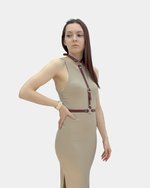 The Bonny and Stormy models in our store were made with a choker attaches to the neck. Straps descend from him at the waist. In such a thing, the accents place just perfectly. The choker draws attention to the neck, and the rest of the elements visually make the silhouette slimmer. Looks beautiful with laconic dresses in solid colors. In our products, the choker can be removed and used as an independent decoration.
Corset
The interweaving of the straps in this model resembles a classic corset. It was made in the form of a wide leather band at the waist or several straps intertwined in the form of a corset. Can wear over long or short-sleeved dresses or white shirts. The main focus in appearance is on the waist, hips, and chest.
Shoulders
Girls with narrow shoulders and wide hips can balance the figure with the shoulder model. They are somewhat reminiscent of ancient epaulets, as they were worn like wings on the shoulder. The lower straps are located under the chest or at the waist.
Belt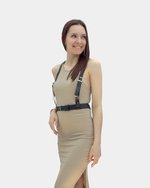 Belt Harness can be a wardrobe staple as it can be the strap. The laconic design will emphasize the waist area, and at the same time, visually make the figure more balanced and slim, especially if you have something to hide.
Bra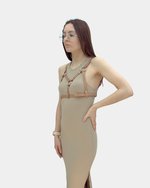 The product on the chest looks like a bra. Only it is worn over clothes. It is an excellent accessory for those who are not used to being shy. Bust Alexa, feel free to wear with a dress shirt or a white/blue shirt. Or wear the harness directly over your naked body, but leave it for home entertainment.
By color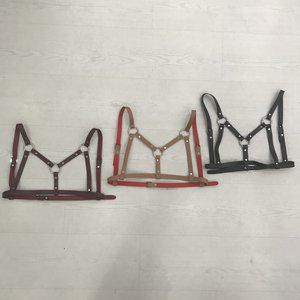 When choosing a harness, you need to take into account what kind of clothes you will wear it with in terms of colors:
Contrasting: a spectacular bright accessory will set off the laconic design of clothes. Black straps look great on a white background, red - on blue, green - on pink, and so on.
One tone. If you don't want to be too conspicuous, you can wear black straps with black dresses, cherry straps with red sets, and beige straps with pastel shades. Solid tandems will appeal to lovers of neutral looks with small accents. Play with shades is allowed.
One shade. When you want small experiments, but are not yet ready for drastic changes in the image, choose the harness according to the shade of your clothes.
By material
The degree of self-expression and rebellious spirit largely depends on the material of the harness.
Leather. Whether artificial or natural, it looks luxurious and the most extravagant, especially when combined with textiles.
Metal. The metal harness resembles chain mail, only more feminine and lighter due to the execution in the form of chains. By the way, they will look no less beautiful as a necklace, especially in gold on the background of black clothes. Decor in the form of stones or rhinestones not excludes.
Silicone. Soft elastic straps are usually worn on the naked body, as they do not chafe the skin or interfere with movement. But such models can easily break.
Laces. The harness in the form of laces will add lightness to the image due to the thin straps.
Elastic band. Popular, but not the most spectacular material. But the harness was made in almost any color scheme, and it will perfectly fit the figure.
The cloth. Textile accessories are cheaper to make but do not create the desired wow effect, more suitable for a neutral everyday look.
By functionality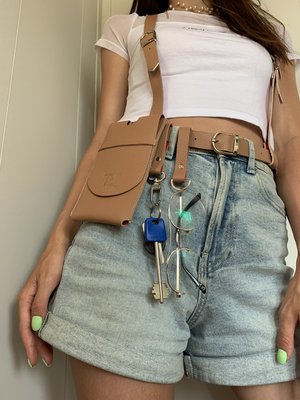 Harness with a fastened bag, glasses, and keys The harness uses for different purposes:
as a decor, when you want to place accents on a simple dress or classic shirt,
for transporting things, when you always need to have a phone, keys, or glasses within reach,
for breast support: busts with leather straps will not only emphasize the breast but will also support it;
as a belt: the harness can use as a full-fledged belt that will focus on the waist,
as abdominal support: this is especially true for pregnant girls.
By the type of weaving
Harnesses differ in the type of weaving:
simple one or two belts at the waist and the same number of belts on the back and chest;
with braided straps: leather elements can look original if they were woven in Afghan braid, braid, or puzzle style. It is easy to work with natural and artificial leather using different weaving techniques, which gives the exclusivity and individuality of the finished products;
with openwork patterns: harnesses with openwork elements located at the waist or straps that stretch up the chest or on the back look very impressive.
By fittings
According to the type of accessories, there are several types of harnesses:
without accessories, when the product completes sewn or fastened on laces,
with rings connecting leather elements,
with buckles: a strap with a buckle at the waist can safely wear as a belt with almost any clothing,
with a holster button: this is a convenient version of the clasp in the form of a small sleeve fastened with a screw to the material;
with thorns: these decorative elements will help to express the rebellious mood of any girl;
with chains: products with metal chains are another way of self-expression for confident and courageous girls.
Where to buy a women's harness?
We offer to evaluate accessories that design and created by our designer by hand. The products are present in three colors - black, cherry, or beige color. These are versatile shades that go well with base clothing. We have fast delivery to St. Petersburg, Moscow, Russian cities, and anywhere in the world. Order a stylish accessory, buy women's harnesses from us to bring novelty to your image!
How to take care of your product?
Any item needs careful care, especially if it has made of genuine leather. The most common problem with such things is the drying out of the material, due to which creases, cracks may appear on the surface, it becomes too hard. After cleaning the product from dust and dirt, treat it with a skincare product. It is advisable to use specialized formulations that will not harm the materials.
Periodically wipe textile, silicone varieties with a damp cloth. Metal fittings protect from moisture to prevent corrosion. Our harnesses have made from quality materials that are durable even with intensive use.
Conclusion
Women's harness makes the image both romantic and feminine, as well as cocky and incredibly sexy. The interweaving of leather belts in different configurations allows you to create an unusual ensemble in any style - from steampunk and gothic to an elegant evening. There are no strict restrictions. You need to give free rein to imagination and learn how to profitably present your figure in a variety of ways!